Static IP on a Linksys WRT54G network
Introduction
This short tutorial will show you how to set up a Linksys WRT54G routeur and your computers in order to have static IPs on your home network. We won't detail the whole configuration process, as it is already properly explained in the user guide.
Why should you use static IPs ? Well, it's up to you to decide whether you need them. To make it short, port forwarding will be way easier if your computers always keep the same IPs on your LAN.
Summary
Introduction, summary
Material
Configuration
Material
In order to follow this tutorial, you should have :
a Linksys WRT54G routeur (but it should work with *a lot* of other routeurs)
a home network with 2+ computers (I guess you can do it with a single computer too, but then why would you need a routeur...)
Configuration
In the routeur control panel
Log in to your routeur administration interface (usually
http://192.168.1.1
).
In the first page (
Setup → Basic Setup
), read (and edit if you need) the value in the
Starting IP Address
field in the DHCP server configuration. You shouldn't use an IP that can be attributed by the DHCP server as a static IP. For instance, if the Starting IP Address is 192.168.1.100 and the Maximum Number of DHCP Users is 50, you can use 192.168.1.99 and 192.168.1.150 as static IPs, but you shouldn't use 192.168.1.115.
Click on the
Status
tab (for the WRT54G it's
http://192.168.1.1/Status_Router.asp
). Here is the result for me :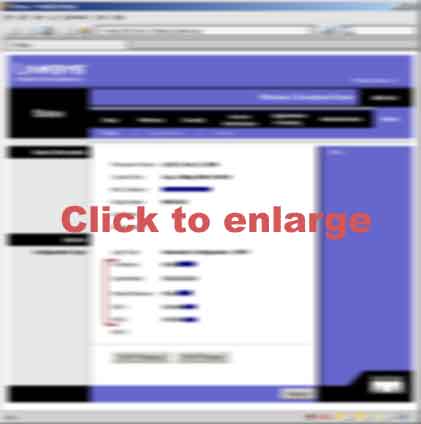 This page contains all the information needed to configure the computers. Leave it open or write down the informations I pointed out (Subnet Mask, DNS 1, DNS 2).
On each computer
On each computer you want to configure, go to
Start → Settings → Control Panel → Network Connections
. Then right-click on the connection you want to configure and choose properties. If you did it right, you should now face something like :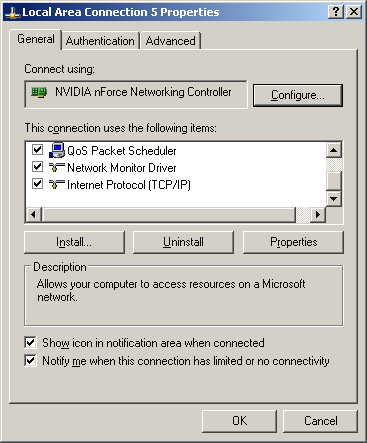 Select Internet Protocol (TCP/IP) and click
Properties
. Then configure it as shown below (copy the values you read in the
Status
tab of the routeur administration) :
check Use the following IP address and Use the following DNS server addresses
in the IP address field, enter the IP address you want this computer to have on the LAN. With our routeur, this IP must begin with 192.168.1, and it cannot be 192.168.1.1 because this one is reserved for the routeur itself. Also it shouldn't be within the range of IPs attibutable by the DHCP server (see above - On the routeur control panel). Finally, each computer must have a different IP...
in the Subnet mask field, copy what you read on the status page (for us the default value was already the good one)
in the Default gateway field, enter your routeur IP on the LAN (usually 192.168.1.1)
in the DNS server fields, enter what you read on the status page (DNS 1 and DNS 2)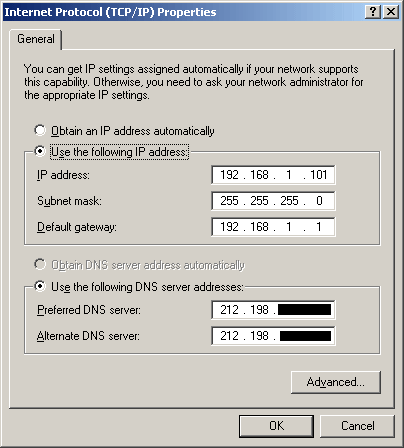 Then just click OK in all the windows you opened... You're done :)